"Replacing Shame with Confidence, Fear with Empowerment: How We Can Love the Wounded and Protect Our Children"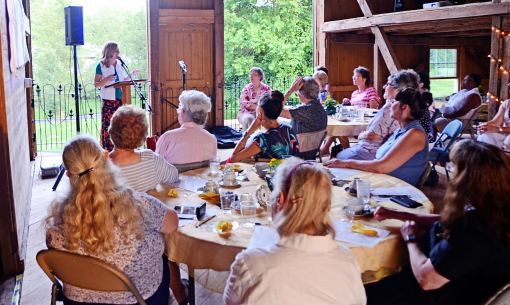 45 minutes with 15 minutes for Q&A. Times can be adjusted. Please ask.
Any seasoned women's event planner understands the needs of the women she serves and knows women are world changers when given helpful tools. She acknowledges if a woman, in her group, isn't a survivor, she has a friend who is. Carolyn's transparency brings down the walls of pain and shame which often separate women and gets them talking. She empowers women's voices to be raised as one in the protection of each other and their children.
All the comments I heard were positive from women of all ages. They were shocked at the prevalence of the problem, thankful their eyes were opened, and grateful for the tools we were given to combat it.
~Meta Wells, coordinator for "Mug & Muffin" and Pastor's wife, Bethany Church, Hatfield, PA
---
Considering a presentation?
This is what you need:
a screen or blank wall for projection
a small table (card size or larger) for display
a podium/music stand
a microphone/sound system
Carolyn provides her own computer, projector, and speakers.
Located in the Greater Philadelphia area, Carolyn typically travels within 1 ½ hours for a presentation. Not local? Carolyn offers her presentations via SKYPE and is open to discuss presentations outside of her area. For more information on how to host a Skype presentation click here…
For other questions, information on speaking fees, or to schedule a presentation with Carolyn, please email: [email protected]