The Great Teddy Bear Drive
Our Teddy Bear Drive is happening! The need is great and YOU can make a difference. JOIN US – All through the month of April!
Here's everything YOU need to know to start a collection in your area.
WHY DO WE DO IT?
As part of our April Child Abuse Awareness Month activities, Rise and Shine Movement hosts an annual stuffed animal drive to support the Philadelphia Children's Alliance, an independent non-profit organization that promotes healing and justice for sexually abused children in Philadelphia. PCA sees roughly 3,000 kids per year and every child who receives services from PCA is offered the opportunity to select a teddy bear or stuffed animal toy upon leaving as a small token to help begin the healing process.
---
WHO CAN PARTICIPATE?
Anyone looking for a way to help others. START A COLLECTION at your office, church, or school...
Youth Sports Organization (a local Soccer Club has donated) or Sports Team
School Community Service Group (a local elementary school & Jr Honor Society has donated)
Mom's Group (local MOPS groups are annual supporters)
---
HOW DO WE GET STARTED?
So you've decided to collect stuffed animals for our drive. Email us and let us know! We'd be happy to offer our support! Then, get the word out! Put up posters (use ours or make your own). Let people know about it via email or social media. But, make sure you are clear about the GUIDELINES.
Stuffed Animal Guidelines: (printable PDF available)

No used stuffed animals of any kind.
Stuffed animals must be new and retain their tags so they can be checked for safety (per Pennsylvania state law).
Donations should not be gift wrapped or boxed; we need to check everything for safety. Miscellaneous items (such as clothing and accessories), in most cases, will be removed.
The filling for stuffed animals must be fabric or solid foam.
The paint on surfaces should also be non-toxic and contain no lead.
The outside "fur" on stuffed animals should not be brittle or harsh to the touch. Keep in mind that most small children will not only cuddle the animals but may put them in their mouth.
"Humorous" toys and animals may cause fears and misconceptions and are therefore discouraged.

Holiday items, while appropriate within a season, are hard for us to store out-of-season.

Large stuffed animals cannot be distributed to clients and their families (the perfect teddy size is between 6-13 inches).

Boys appreciate: anything sports related, any type of popular cartoon/movie or action character.

Girls appreciate: anything princess or fairy-oriented, pink and frilly.

Overall: All children like plain bears that are comfy and soft!
Need more convincing? Please watch this special video:
WHERE CAN I DONATE?
You want to donate, but there isn't a collection in your community? Buy a bear online (Amazon or Walmart, etc.) and ship it to Faith Church of Worcester (address #2 below). All donations (stuffed animals or monetary) may also be dropped off or shipped to the following locations during the month of April:
Faith Church of Worcester, Attn: Rise and Shine Movement, 1341 Quarry Hall Rd., Norristown, PA 19403
Wedgewood Gardens, Attn: Rise and Shine Movement, 1890 Middletown Rd, Glen Mills, PA 19342
We also accept monetary donations to purchase stuffed animals on your behalf. Checks should be made payable to: Rise And Shine Movement
On behalf of the children who have experienced a horror no one should, thank you for giving a little comfort during a painful situation. You have made a difference!
Questions? Send us an email.
---
April is Child Abuse Awareness Month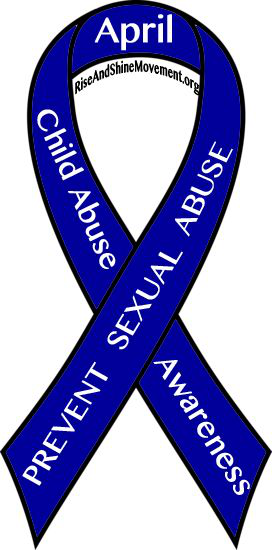 Check in with Rise and Shine Movement every April as we work to spread our sexual abuse prevention message to everyone who needs to hear it! Check back to see what we have planned for this year!
In the meantime, you can help spread awareness by sharing our posts on Facebook, retweeting us on Twitter, and re-pinning our resources on Pinterest. You can also collect stuffed animals for our annual #GreatTeddyBearDrive for children who have disclosed sexual abuse. Donate or organize a collection at your school, office, church, or mom's group.
1 in 4 girls and 1 in 6 boys will be sexually violated by their 18th birthday. We believe consistent conversations with toddlers through high school age children will equip, empower, and protect them. Many don't have this important conversation with their kids -- some just don't even know where to start. Educate your friends and family on this important issue, during Child Abuse Awareness month, and throughout the year.
Rise and Shine Movement is here to help! And as always, thank YOU for your help. We could not do this without YOU!