Continuing the Conversation Blog
When You Catch Your Child "Playing Doctor" Wednesday, October 25, 2017

The following is a fictional story based on true accounts. Situations happen like this across the world, every day. It's common, however . . .
Prefer to listen to Carolyn? Watch/listen to this post as a vlog:
---
It was a game. You show me yours, and I'll show you mine. Curiosity had gotten the best of six-year-olds Emily and Jason. Neither one of them had a younger sibling of the opposite sex. They simply wanted to know what made them different and with no ill intent, they found a creative way to find out.
Kids will be kids. And their curiosity won't kill them, but it might kill their mamas.
*
Sheryl climbed the steps lugging the wash basket filled with little girl's clothing, a week's worth of vacation laundry, finally washed and neatly folded. Exhausted, she was glad to be home and smiled as she heard giggles from her daughter Emily's room. It was a good move, inviting Emily's next-door neighbor friend, Jason, over for a play date. Sheryl had gotten the laundry nearly completed without interruption. A successful day in the life of any mother.
She pushed Emily's bedroom door open wider with her foot, "Hey guys, do want a sn . . . ack?" Her heart pounded. The laundry basket fell to the floor. "Pull your pants up. What are you doing? Jason, get your jacket. Go home. Now!"
*
Sheryl locked herself in the master bathroom and called her husband. Her cell phone trembled in her hand as she relayed the incident and her reaction.
"It's going to be okay," her husband said. "Kids play doctor."
"You don't understand." Sheryl wiped the tears with the back of her hand as she sank to the floor. "I blew it! The look on Emily's face. Jason's face . . . I'll never forget it. I shamed our daughter, not to mention someone else's kid." Sheryl closed her eyes. "What have I done?"
Silence.
Then finally, "You reacted the way most of us would. You're human. Where is Emily now?"
"She's in her bedroom." Sheryl took a deep breath and slowly released it. "I want a do-over."
---
Oh, a do-over! How many of us mamas wish we could have a million do-overs deposited in the International Bank of Motherhood? I could have made a withdraw daily during the years of my most valuable and vulnerable parenting transactions.
It's why I write about the hard stuff. The situations no one wants to think about, let alone talk about. I want to help moms avoid collateral damage. If we take the time to think about the unpleasant, we're making an investment in our relationship with our child and in their future. Surely, it's worth a moment of our time. Because most of us have triggers related to sex. Most of us have tasted, if not swallowed shame. And we're going to want a do-over if we don't make some deposits.
If we could rewrite the scene, we'd pick up where the laundry basket dropped.
If this mama could have had a do-over, how could she have reacted? Emily and Jason, in this scenario, were playing an innocent game, however inappropriate. But what if they hadn't been? What if one of these kiddos was acting out something inappropriate they had learned through seeing porn or from a prior violation? How can you respond if you walk in on something so startling?
Breathe. It gets oxygen to our brains and helps us think.
Quickly trade your shock of horror mask in for your professional mama mask—the one with the soft eyes that reveal our warm and open hearts. Attend to the immediate need. In this case, "Yo kiddos, pull your pants up. Jason, can you go wait for me in the living room? I want to chat with Emily." It's never a bad idea to get two sides to every story.
Assess the situation by asking gentle, non-judgmental, open ended questions: "So, tell me what you guys were doing with your pants down?" "Then what happened?" "What happened next?" And listen. When we listen with our children with empathy, shame finds no home in their hearts.
If it's a clear case of two curious kids trying to solve the great mystery of the differences between men and women, breathe again. Smile. You've got a curious child. And curious children are smart children. Continue to #5. If it's not a clear case of two curious children, see #6.
Explain to your child that it's normal for them to be curious about the opposite sex. Tell them that you're here to answer any questions they have about boys and girls regarding how their bodies are different. And gently remind them that we keep our private parts private.
If it's not a clear case of two curious kids, and you suspect one of these kiddos was acting out something inappropriate, which they learned through seeing porn or from a prior violation—breathe. Take time to think and seek wisdom. Call one of the hotlines we have listed on our website. A delayed response is always better than a quick reaction.
And what about poor Sheryl? I said this was based on a true story. Sheryl was triggered. She reacted. She imparted shame.
With the encouragement of her husband, Sheryl, put on her big girl panties, went back into Emily's room and did what all of us mamas must do sometimes. She apologized to her daughter and to Jason. And in doing so, she built a bridge of honest communication with Emily that would strengthen their relationship and minimize shame. Because all mamas fail. And do-overs build credit history and are worth the investment.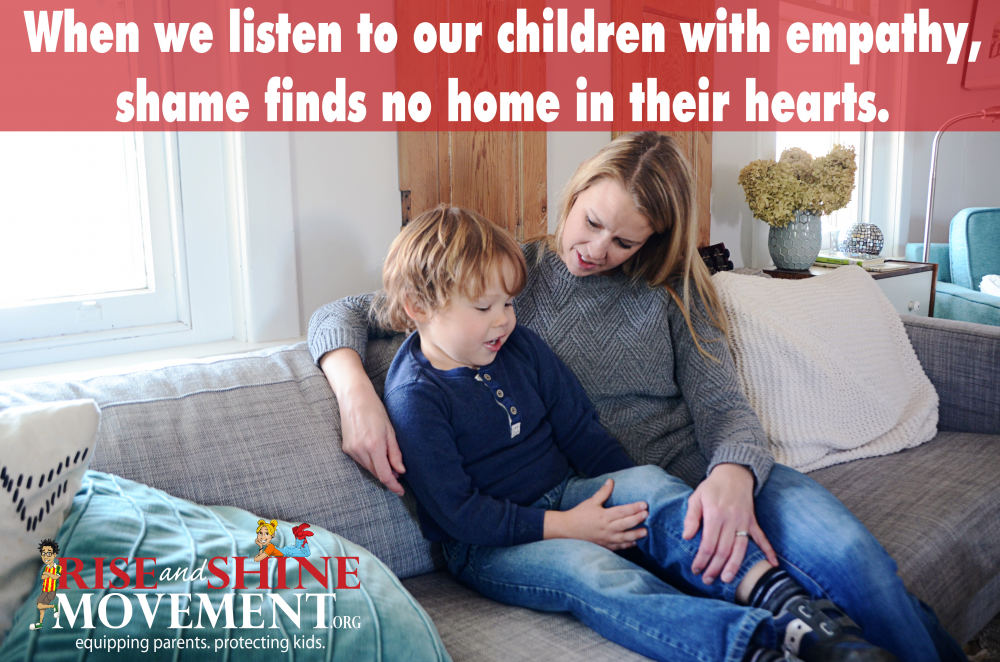 ---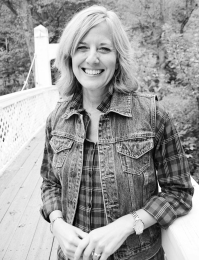 Carolyn Byers Ruch is the founder of Rise and Shine Movement and author of the children's books, Ana's Song and Bobby Gilliam, Brave and Strong, both tools for the prevention of childhood sexual abuse. She has spent the past ten years championing the issue of childhood sexual abuse and has received training certificates from some of the leading organizations dedicated to protecting children. A former teacher and mother of seven, her life has been enriched through adoption and foster care.
---
---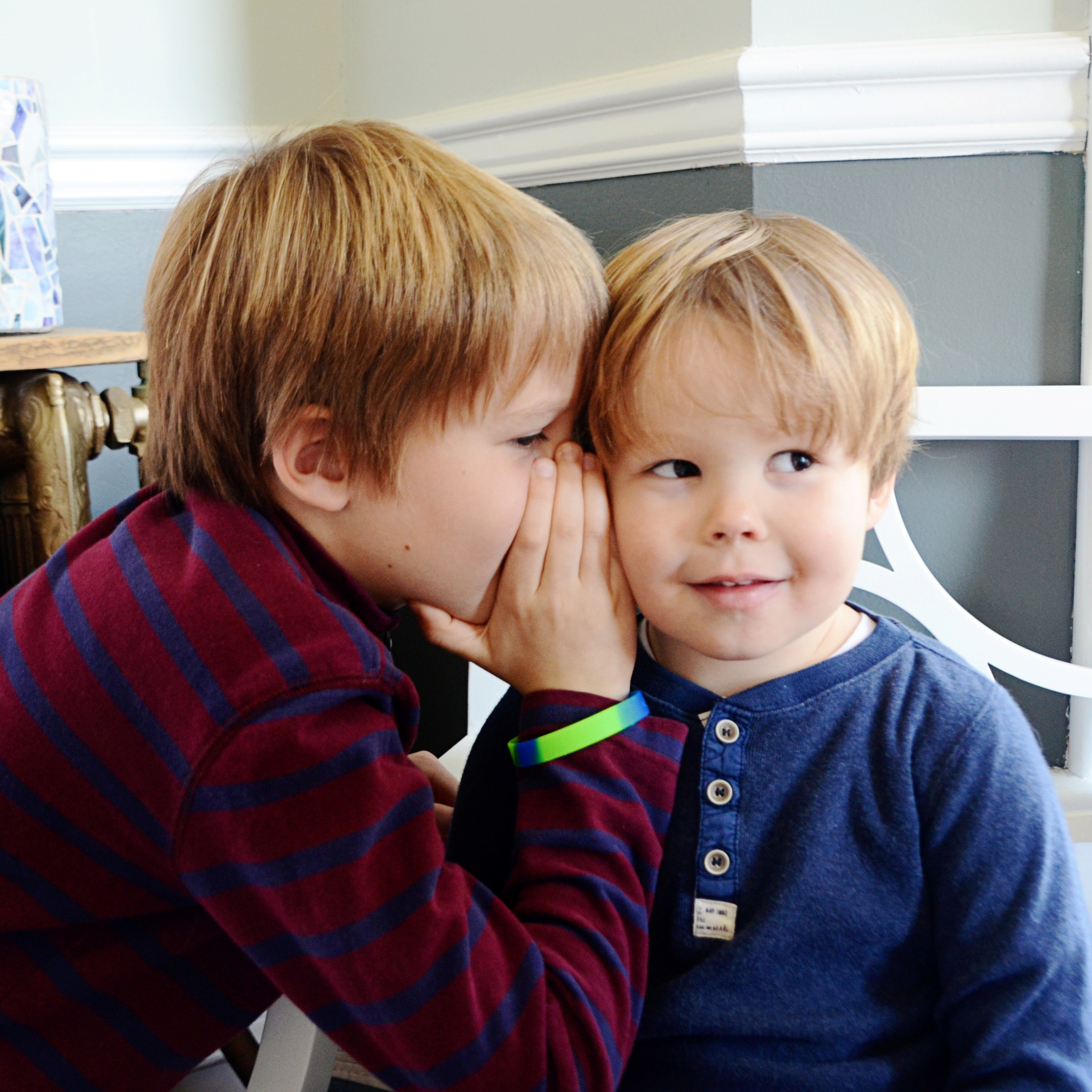 Would your child keep a
secret from you?
FIND OUT
Get our FREE video:
What If? Conversation Starters
or never miss a post!
Contributors
We're moms, just like you, who want to help parents protect their kids from childhood sexual abuse.
---
You may also like...